IGM Cast Linear Light
The Cast Linear Light is a comprehensive indirect pelmet luminaire system for a range of applications. The Cast Linear Light comes designed with an angled LED board, linear lens and a uniquely designed clip-system to emit a forward-throw asymmetrical beam. With three output models available (High Efficiency, High Output and Ultra High Output)
the Cast Linear Light provides a wide range of lighting outputs to cover each project requirement.
Tùy chọn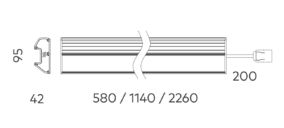 Type

High Efficiency (HE)

Absolute Luminous Flux (White Honeycomb)

580mm (8W)
1032lm (at 3000K)
1101lm (at 4000K)

1140mm (16W)
2107lm (at 3000K)
2256lm (at 4000K)

2260mm (32W)
4214lm (at 3000K)
4512lm (at 4000K)

Bean

110° (F)
Type

High Output (HO)

Absolute Luminous Flux (White Honeycomb)

300mm (8W) - DALI only
968lm (at 3000K)
980lm (at 4000K)

580mm (16W)
2021lm (at 3000K)
2086lm (at 4000K)

1140mm (32W)
4216lm (at 3000K)
4296lm (at 4000K)

2260mm (63W)
8433lm (at 3000K)
8591lm (at 4000K)

Bean

110° (F)
Thông số kỹ thuật
Material
Extruded Aluminium
Colour Temp
2700K
3000K
4000K
5000K
2700K-6500K
Mô tả sản phẩm
Nội dung đang cập nhật
Bộ sưu tập
Sản phẩm tương tự